VICE PRESIDENT, DR. BAWUMIA HOSTS GFA DELEGATION
A delegation from the Ghana Football Association(GFA) last Friday, August 27 paid a courtesy call on the Vice President of the Republic of Ghana His Excellency Alhaji Dr. Mahamadu Bawumia at the Jubilee House.
The delegation was led by the President of the GFA, Kurt Edwin-Simeon Okraku and included GFA Vice President Mark Addo, General Secretary Prosper Harrison Addo, Executive Council Member Tony Aubynn and Mr. Michael Osekre.
The purpose of the meeting was to thank the Vice President for attending the launch of the league season last year and also to express the Association's gratitude for his immense support for the development of domestic football.
The meeting was also to thank the Vice President for his advocacy for the development of Women's football in the country which was manifested in the financial support he gave to Hasaacas Ladies FC which played a crucial role in their success in the CAF Women's Champions League WAFU Zone B Qualifying tournament staged in Ivory Coast last month.
GFA President Kurt E.S. Okraku announced that in line with Government's Digitalization policy, the GFA has taken steps to introduce e-ticketing for all Premier League matches beginning from the upcoming league season.
The GFA President also discussed a number of issues concerning football, which he appealed to government through the Vice President to help address.
Issues raised included amelioration of financial obligations on clubs, as well as financial support for clubs, import levies on sports equipment and difficulty in clearing national team kits from the port.
The meeting also discussed consideratiion of tax rebates to corporate organizations that support the football industry.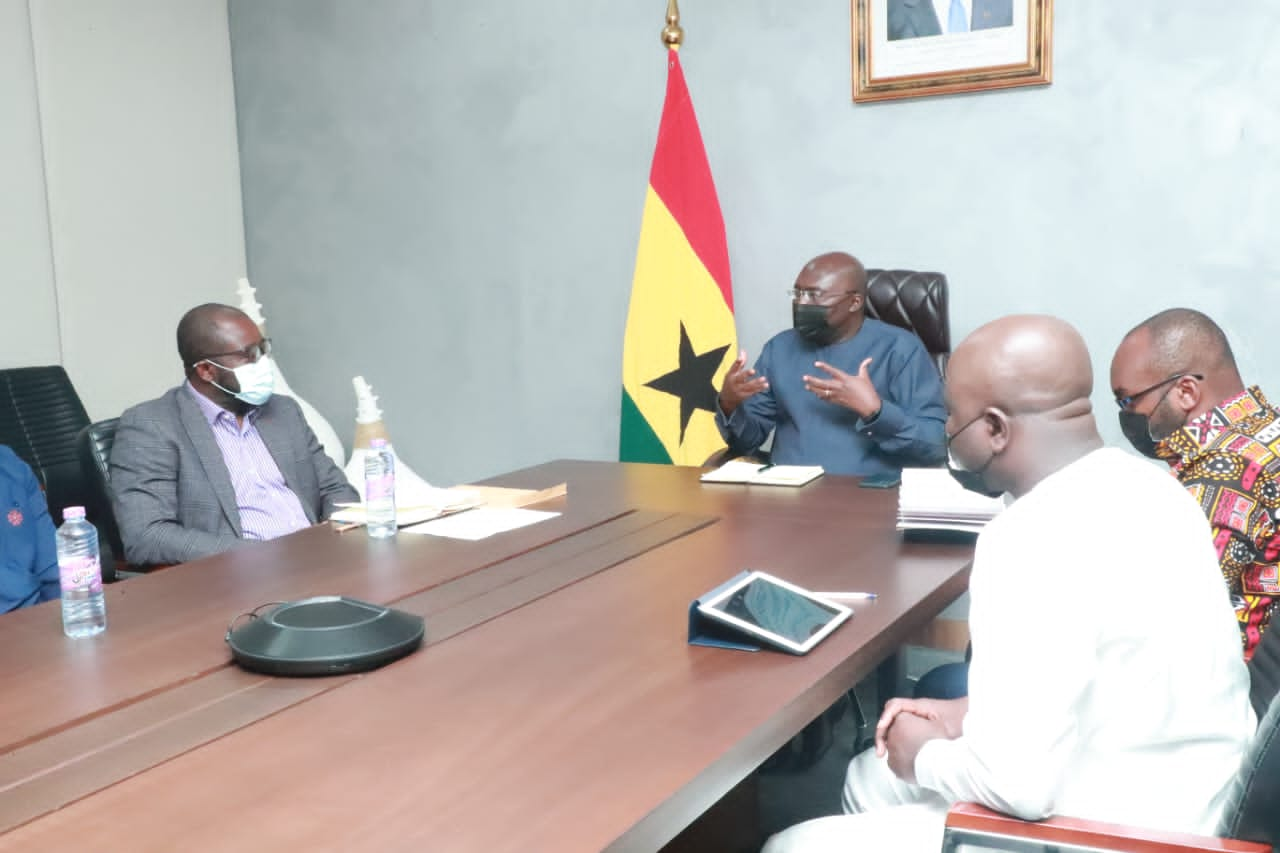 The President of the GFA also acknowledged and expressed appreciation for the financial support Government gave Premier, Division One League clubs and female footballers across the country after the outbreak of the Covid-19 pandemic.
Vice President reiterated government's commitment towards supporting the development football and sports in general.
He said football and sports in general, have the potential to contribute significantly to the socio-economic development of the country, hence government's decision to invest in developing sports infrastructure in the country to provide the right platform for the sports development.
Dr. Bawumia assured that government, through the Ministry of Youth and Sports, will continue to support initiatives and policies, which will ameliorate the burden of football clubs and also accelerate their progress so that they can contribute towards the socio-economic development of Ghana.
The Vice President was presented with a Black Stars jersey ahead of Friday's crucial World Cup qualifier against Ethiopia which will be Ghana's first hurdle in the quest to qualify to the 2022 World Cup in Qatar.
GFA COMMUNICATIONS
About Author
Website Disclaimer
Sports M R News is not responsible for the reportage or opinions of contributors published on the website. 
Send your news stories to
WhatsApp on +233246347334/+233245850932